Contract Research and Custom Peptide Synthesis
GAP Peptides, LLC is the first and only company to use GAP Chemistry to synthesize peptides.  Our novel synthesis approach is highly efficient, cost effective, and rapid. The patent-pending technology enables the production of high quality peptides while reducing waste, cycle times and direct costs compared to LPPS and SPPS methods.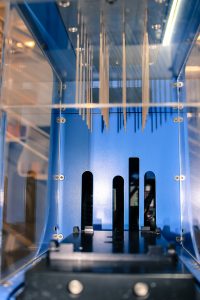 Custom research and synthesis occur in our lab located in Lubbock, Texas, USA. We have the capability and capacity to perform a wide variety of chemistries.
Our fully automated process ensures reliability and high-throughput generation of data.
We can provide protected peptides as a dry, solid powder for Researchers and Manufacturers working up specific or proprietary formulations.
GAP-protected peptides can be stored at room temperature for up to 12 months without degradation.
We can provide fully isolated and purified target peptides to our clients.
For contract research projects, in addition to feasibility data, we can provide the target peptide if needed for quality validation or additional in-house research.
For clients interested in IP transfer, upon completion of research and generation of satisfactory data, we offer  sublicensing opportunities for the application of GAP-PS technology for commercial scale production.