About GAP Peptides, LLC
GAP Peptides is serious about transforming peptide synthesis for the 21st century.  Contagious passion, commitment to service, and an entrepreneurial spirit keeps our focus on innovation that delivers real-world benefits by lowering costs, improving yields, reducing cycle times, optimizing equipment utilization, and increasing quality.
Our new, high-tech manufacturing lab, filled with custom built equipment and access to powerful analytical tools, insures we have the capacity and capability to meet the growing demand for lower-cost peptides.  With over 40 years of laboratory experience on our side,  we are excited to introduce GAP technology to the industry and we promise to apply our energy to continually enhancing the chemistry which has potential to positively impact global health and wellness through peptide-based products.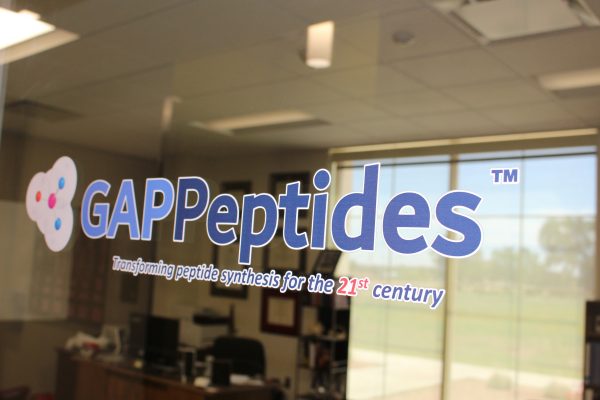 Our Commitment
Focused on forming long-term partnerships that enable the delivery of high purity, economically-priced peptides, our aim is to positively impact peptide manufacturing: enabling producers of peptide-based products to deliver more affordable, high quality health and wellness solutions for consumers.
With an emphasis on quality, reliability, and efficiency, we continually seek to expand our knowledge base and develop advanced synthesis methods by applying practical, innovative chemistry to transform peptide synthesis for the 21st century.
Our goal is for GAP Peptide Synthesis to be the synthetic method of choice for large scale, high-quality, environmentally friendly and economically produced peptide intermediates and APIs.